Little did I know that when I was given an article from Leadership Journal it would change the trajectory of my life and ministry. The article was titled: If Your Church Vanished, Would Your Community Weep? Would Anyone Notice? Would Anyone Care?
Yep. It rocked my world and I knew things had to change. At the time, I was on staff at a local church that wanted to build a parking structure. We were in the midst of a community tussle – our neighbors protested its building at city council meetings. It made me ask the questions, "What do we want to be known for?", "What is our real purpose?", and "How do we edit our story?"
Shortly thereafter, we began to offer annual community serve days to introduce and mobilize our faith community in the cities surrounding our facility. Our goal was not a big event, but introductions to needs and opportunities around us. After several years of this model: One Church Doing Good Deeds for the Community, we experienced something different and it was better. One summer, we partnered with two other churches and our local police department to paint a local shelter. After experiencing this, I was determined to never do another serve day alone. It was incredible to see what we could accomplish together, the bonds and relationships that were built, and the transformation it had on us. Our new model, we're better together.
Fast forward several years to when OC United was first formed and approved as a 501c3 organization. The first thing we did was launch Love Fullerton in May of 2014. This was an entirely different model: it was the Church doing this "with" the city not "for" the city.  We invited everyone to come to the table and participate, a real community based approach and it worked.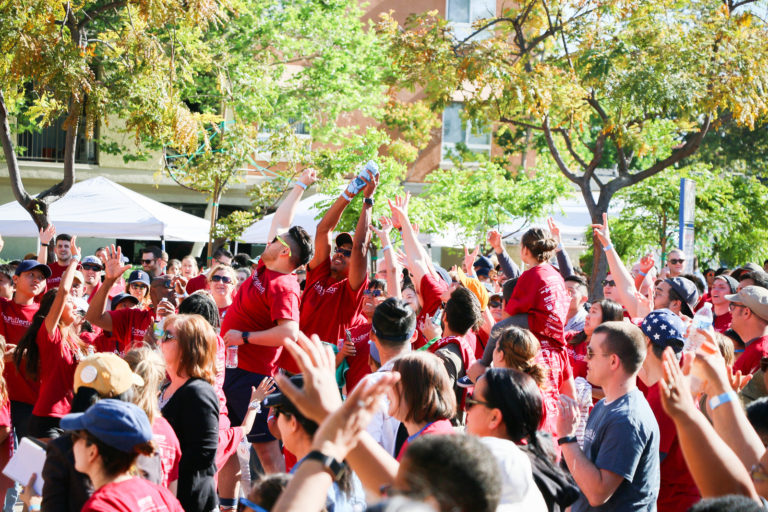 On Saturday April 28th, we anticipate close to 7,000 people putting aside their differences and busy lives to gather together to serve and give back to their respective communities. We call it "Love Your City" and it will include people from all sectors of our community: local businesses, city government, public school families, faith communities, sports teams, scouting clubs, universities, colleges, service clubs and local residents.
Will you will consider joining us with your friends and family as we experience the truth of the phrase: "We're better together"? As a Pastor, I especially love seeing the Church of the City (comprised of all the different denominations and backgrounds) united and outside the walls of our buildings, joined together for a day of service showing and telling all who will listen, that following after Jesus is the best way to live life!
We believe good friends serving together doing good deeds creates good will in our community and opens the door to bring the good news of Jesus to all who will listen. Someone wisely said, the church is the only organization that is supposed to exist for its non-members. Sadly, more often than not, we act like our specific address or hometown is supposed to serve us; instead of living "on mission" to serve those around us and our hometowns. Friends, this strategy works. While this is only one day (a GREAT day by the way), it opens the doors to make a difference during the other 364 days of the year. Our hope is that it will catalyze people to step outside of their comfort zones and serve those around them – showing them that serving isn't only not that bad but it can be enjoyable and an opportunity to make new friends and connect with others we maybe never knew existed.
We have watched churches use this day of service to begin ongoing partnerships with some of our neediest schools; ongoing Bible studies have been established in local non-profits; senior centers continue to get visitors showing up to love and listen to them; youth groups have found local places that welcome their missional presence and much more. So we invite you to join with your eyes wide open for ways to engage in the work of the Kingdom in our own backyards.
Jeremiah 27:7 reminds us of God's heart for the places He has planted us. It's quite a shocking verse really!  7 But seek the welfare of the city where I have sent you into exile, and pray to the Lord on its behalf, for in its welfare you will find your welfare . . .
We too are all sojourners here for our time on this earth. Amazingly, God desires to bring His peace, blessing and prosperity to our local city—through us!  It's through our ministry of presence, service, good deeds, and prayers for our city and community that He will bring His peace (shalom) and prosperity to us. Matthew 5:16 reads: In the same way, let your good deeds shine out for all to see, so that everyone will praise your heavenly Father.
Bring your family and join us.
Simply (1) go to www.ocunited.org/events/love-your-city, (2) pick your city and (3) find a serving opportunity that fits your skills and passion.
Then after your work/service is completed meet at Fullerton College for a free lunch compliments of Heroes, Matador Cantina, Jimmy Johns, & The Slidebar. I can't wait to see you there!
– Jay Williams
Executive Director, OC United