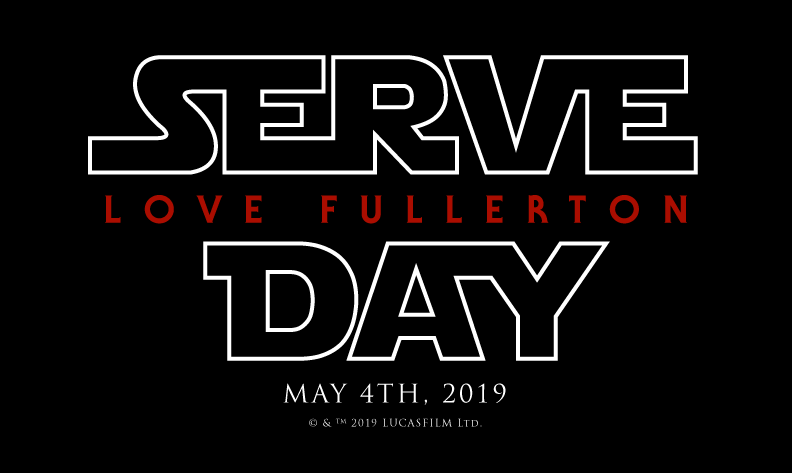 May the 4th Be With You
On Saturday May 4th, also known as Star Wars Day, close to 6,000 people throughout ten cities will be joining together. People from every sector of the city and all walks of life will be there: residents, businesses, city workers, elected officials, scouts, faith communities, youth groups, service clubs, students, public and private schools, principals, and nonprofits.
What brings us all together?
Why will we offer up nearly 18,000 volunteer hours on this particular day?
The answer is Love.
I think the Beatles had it right when they said: "All We Need is Love". Jesus said, "the greatest commandment is to Love God with all your heart" and the 2nd greatest is "to love your neighbor as yourself." In 1 Cor 13, also known as the "Love Chapter," it says says, "Love is patient and kind; love does not envy or boast; it is not arrogant or rude. It does not insist on its own way; it is not irritable or resentful; it does not rejoice at wrongdoing; but rejoices with the truth. Love bears all things, believes all things, hopes all things, endures all things… So now faith, hope and love abide, these three; but the greatest of these is love."
As humans, it feels good when we give of our time and energy to help serve a fellow human being. Scientists have found that when you do good for someone else, the body sends a shot of dopamine to your brain and you feel satisfied – even happy.
Now if we're honest with ourselves, we know that it isn't always easy to love our neighbors or those around us. We all have such different tastes, life experiences, and come from diverse backgrounds. While these differences can be amazing and make life interesting, they can also be divisive. We see life from different perspectives, other cultures, religions, and values. In these times, we are so easily divided by opposing political parties and ideologies. No — it is not easy to love our neighbors when they are so different from us. We are usually afraid of the "other" or at least suspicious of them. We can be so hurtful, selfish, angry, bitter, and judgmental at times – "the dark side" if you will.
But on May 4th, we are going to practice setting all those differences aside and LOVE one another by caring for the other, giving back, saying thanks, putting aside our differences, and celebrating our common humanity and dignity. This day is about loving our neighbors, especially those in Fullerton, Placentia, Anaheim, Brea, Tustin, Yorba Linda, Buena Park, Costa Mesa, and La Mirada areas.
My hope is that it inspires us to keep serving and loving those around us beyond just this day, and we see that there are 364 more opportunities – 364 more days – to continue to spread love wherever we go.
Jay Williams
OC United, Executive Director
"What does love look like? It has the hands to help others. It has the feet to hasten to the poor and needy. It has eyes to see misery and want. It has the ears to hear the sighs and sorrows of men. That is what love looks like."  Saint Augustine