"Never Giving Up" [ Millie's Story ]
Jobs for Life just graduated a set of new students a little over two weeks ago and we are so excited to see where our graduates end up. It has been exciting to walk through the program with these wonderful students and see them grow. A standout student from the class, Millie, and her champion, Kay, share their thoughts and encouragement with us from their time together in the program.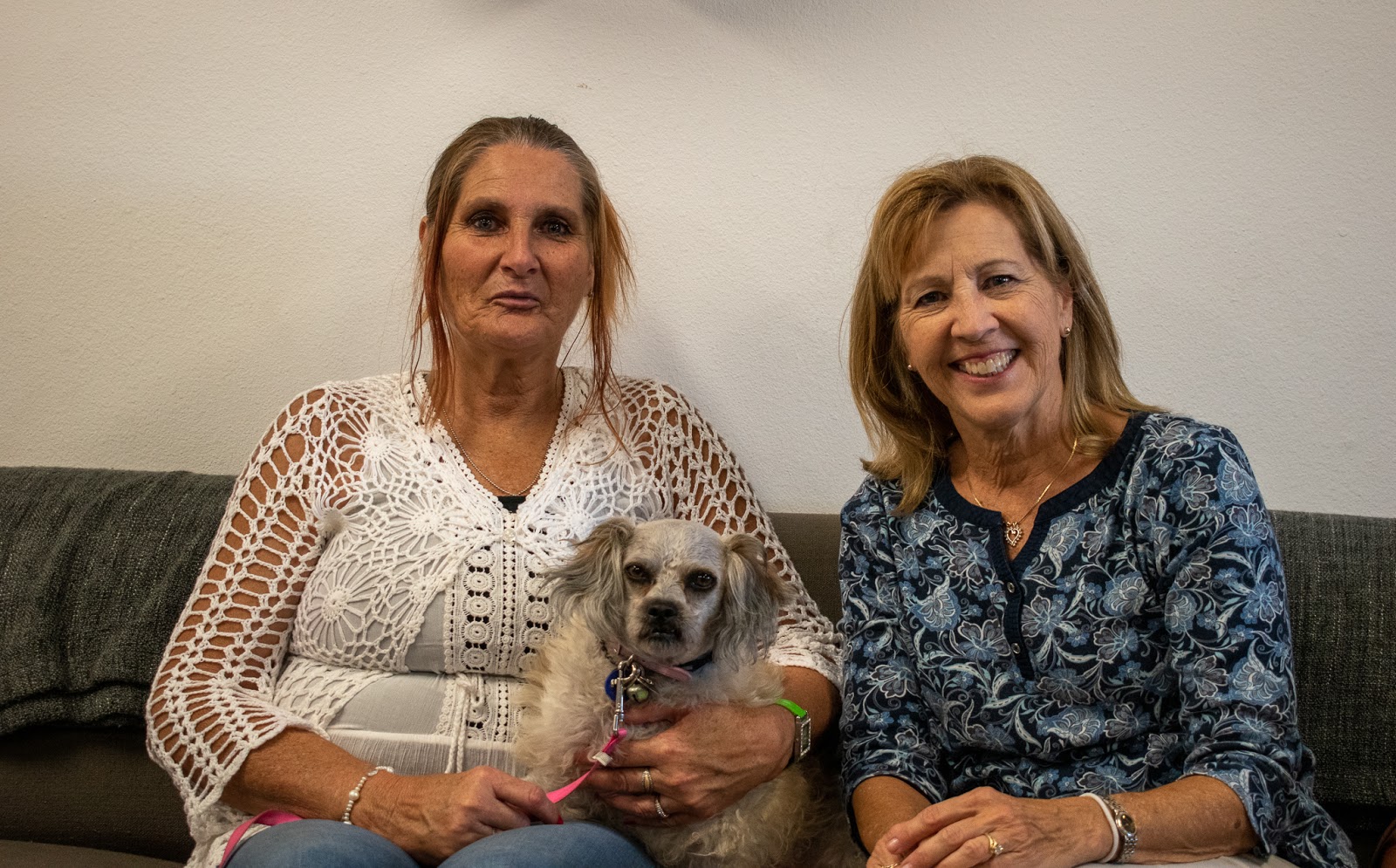 Pictured: Millie, Dog Shiloh, Kay
Q: How did you end up here? Were you living in Orange County before you came to Bridges?
Millie: Before I was in the shelter I was living on the street then eventually on the riverbed. Then when they swept us out, I moved into temporary housing in a hotel. My caseworker was trying to get me into a domestic violence home, but my extension at the hotel ran out and I ended up in the shelters. I don't like shelters, I would have lost my dog, Shiloh. She has been with me in bad times and good times, so I couldn't leave her. Eventually, I ended up at Bridges [Bridges at Kraemer Place is the Transitional Living Center for those experiencing homelessness in Anaheim, CA]. I thank God now. I am so thankful that I am at Bridges because I wouldn't have been in this class. I have to keep reminding myself that this is temporary and that I will get out of here. I know I have gone through hard times but God is getting me through it.
Q: Tell me about your time in the Jobs for Life Program, Millie. How was it for you? Also, how was it for you to be a champion, Kay?
Millie: I am so thankful for the program and all the people that have helped me through it. I have learned so much. I was so happy when Tuesdays and Thursdays came around. I was going to quit class at one point. The homework was hard and there was an incident that happened that was not the best. I had always been involved in things but never finished them. But instead of quitting, I pushed through and when graduation came around I was so proud. I got my diploma and felt so good about myself. I said, "Millie, you did it!" I was so proud. I got a job before the program was even over. I am so proud to have been in this program.
Kay: The program can be so helpful for the students. You can see such a change in confidence in a matter of 8 weeks by encouraging the students and getting them out of the negative space that they can end up in. I didn't think I could do it either and it was hard sometimes, but I have learned so much from these students. It has been a great experience for me, as well.
Q: Kay, what is your encouragement to women wanting to come to the program?
Kay:  As students, I would encourage women to come forward and keep coming to the program. Are you willing to come out and learn?
Kay: Are you willing to come out and be a champion? Be willing to go in and work with people. There are a lot of women coming into the program and there is a lot of need for female champions. I want you to know that there are other women here and women that want to work alongside you. It doesn't matter who you are or where you come from. You can be young or old, curious or not. You can do it twice a week or once a week. Please come!
Q: So what is next, Millie?
Millie: My dream is to work as a mortician. I just have to be patient and find out the steps to get there. I know I need to figure out how to take care of myself and my dog. I had started the process once before but I started missing class because I couldn't afford the books to study or keep up. I would go into the library and try to get the books but they wouldn't have them. Hopefully one day I can go back to school and afford it. I want to be a mortician to work with people. I want to be there for the families. I want the family to look at their loved ones and remember them like they were when they were alive. I mean, I want to get paid but I do want to be there for the people in their time of need.
Millie: In the meantime, I am waiting for a job at Goodwill. I struggle with depression, but even though I struggle with it I realized I had to go out and try to find work and get something going. Even though my first job didn't work, that is ok. It wasn't a fit for me. I am starting at Goodwill soon and they work with a lot of people who have mental health needs so I feel good about being there with them, with people who understand me.
We wish nothing but the best for Kay, Millie, and Shiloh as their journey together continues.
---
Next Jobs for Life Class:
The next session of Jobs for Life Classes begins on Tuesday, October 1st and runs through November 21st.
General Info Meeting:
The general information meeting will be held on September 12th from 7:30-8:30pm at OC United (418 W Commonwealth Ave, Fullerton, CA 92832)
More Info:
If you are interested in supporting our Jobs for Life Program or learning more you can find us at ocunited.org/jobsforlife or email Mike Carman at mikec@ocunited.org. You can also sign up to be a champion at ocunited.org/volunteer.
---
Interview conducted by Chris Baeza (OC UNITED Creative Team Intern, chrisb@ocunited.org)